New modular council homes lifted into position at Parson Cross, Sheffield
Sheffield City Council have taken the decision to go modular for their four new contemporary homes which were lifted into position today (26th Aug), setting the scene for what could be the beginning of a series of modular homes available for affordable rent across the city.
The decision to go modular to accelerate their affordable housing stock has been a big one for Sheffield City Council but one that has been well received as construction continued during COVID 19 and the build programme remained on-track.
Provided as part of the council's ambitious Stock Increase Programme targeted to build 3,100 additional new affordable council homes by 2029, this small-scale scheme will test what's called 'Modern Methods of Construction' (MMC) and the council will be assessing how these new homes fare.
Procured through the LHC's housing framework LHC NH2 for Offsite Construction methods of New Homes.
CPC (a partnership for procurement excellence between LHC and Consortium Procurement, the procurement operation of Northern Housing Consortium) have helped Sheffield City Council from the very start, understand the process and together with M-AR, to deliver these 4 new affordable homes.
The modular homes have been precision engineered in a quality controlled factory environment in Yorkshire using a light gauge steel frame and will look and feel like a traditionally built house but will be more efficient, with a brick exterior and a pitched roof. Each home is a four-bedroomed family house built on Knutton Crescent at Parson Cross, an area where there is an identified need for this type of affordable home.
Using MMC brings advantages in terms of speed of delivery, quality assurance and energy efficiency, as well as less construction activity and disruption in the local area compared to a traditional building site.
Councillor Paul Wood, Cabinet Member for Neighbourhoods and Community Safety at Sheffield City Council said:
"Our aim is to build more quality, warm and affordable homes where they are most needed across the city. I think they look rather impressive and it's interesting to see how the homes come together as they are lifted on to site and installed with speed and precision. We look forward to asking people what they think of how they look and importantly what it feels like living in a house like this, when families take residence.

Of course, we'll be fully assessing the benefits and opportunities that homes like this could bring to the city to see if more of them should be built. As our first step in to MMC for new council homes we have intentionally started small. We hope that building homes in this way in the future on a larger scale will help deliver wider benefits including cost reductions. We'll be learning from this project, assessing what these homes are like to manage and maintain and how we would do things differently if there are further phases. It's pretty exciting being a city that welcomes innovation, whilst offering affordable and efficient living, to those who most need a council home."

Amanda Grimbleby, Partnerships and Business Development Director at M-AR Off Site said:
"we are extremely proud to be working in partnership with Sheffield City Council to deliver their first 'MMC' affordable homes in the City. There is a national housing waiting list of more than 1.1m households, according to homelessness charity Shelter, underlining the need to accelerate delivery of more affordable homes across the UK. The homes we have built at Knutton Crescent are built to higher quality standards than traditionally built homes and are extremely air-tight, significantly reducing heat loss and reducing fuel bills for those families who need it most and not to mention in half the timescale to traditionally built homes.
Working with the Sheffield City Council team has been absolutely great, they are not only a collaborative authority but are very forward thinking and could lead the way in which housing delivery is approached in Yorkshire in the future, to ensure the much needed affordable homes are provided quicker, to better quality standards which are more efficient, greener and sustainable for generations to come.
It has been a pleasure to be involved in this project and for me the real success here is not just the homes we have delivered in a short timescale but the homes have been constructed in our factory during the COVID-19 pandemic, which is a credit not only to the M-AR team but also the Sheffield City Council Team who we have worked closely with throughout the project, it takes a team effort to do this so thank you to all for your proactive approach in making this happen for the city of Sheffield "
The project received capital approval at the council's Cabinet meeting in March 2020. The new affordable homes are expected to be handed over within around 10 months from the start of the initial design work with on site construction works taking approximately 6 months. The programme for this site currently indicates that the impact of COVID-19 on the project will be minimal.
The Sheffield City Council press release can be read here

If you are interested in finding out more about modular homes, get in touch through our social channels. Our team are always happy to answer any questions you have.
Further updates to follow as we progress and posted out through our social channels too 👍
Other project updates can be found here
M-AR Off-Site is modular building specialist who will guide you from handshake to handover.
Related Posts

Changing perceptions
Procurement
Resource
Residential
WEBINAR - The challenges and benefits of utilising Modern Methods of Construction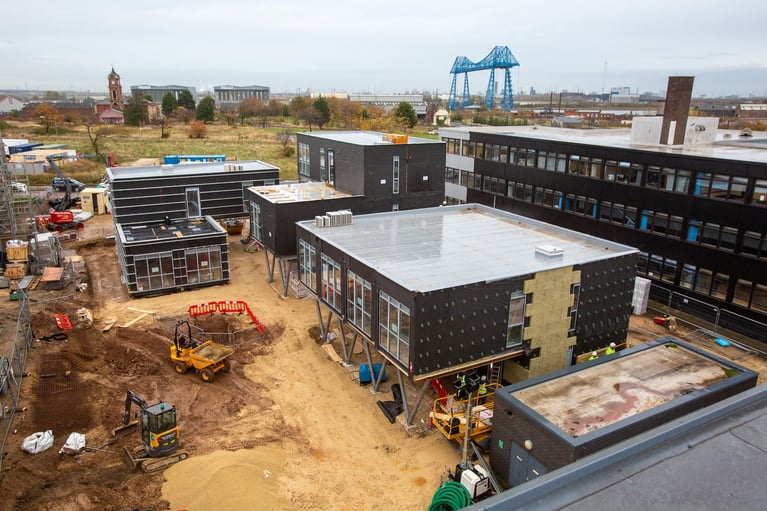 M-AR Company News
Commercial
Progress picks up pace for BoHo 8 modular offices, Middlesbrough

Procurement
Residential
M-AR Company News
M-AR awarded sole provider on CHIC housing programme for Turnkey modular homes