As the sole provider in Lot 2 on the CHIC (Central Housing Investment Consortium) housing programme we are able to offer you another specialised procurement route to procure OJEU compliant houses, apartments and bungalows.
The CHIC have been pushing to change the face of housing delivery for some years now and have been an early adopter to deliver a procurement solution. As a Housing Consortium made up of Local Authorities and Housing Associations, the CHIC have a unique view of the barriers they face when procuring new home through MMC
The CHIC already have a pre-existing BuildSmart framework which has seen some success despite hesitancy in the sector. 19 of CHIC's members have been using the framework since inception 4 years ago and have benefited from efficiencies through collaboration.
In anticipation of increased demand and a requirement to produce more cost-effective homes, faster, and to increase the number of BuildSmart options available to members, CHIC tendered for 3 new modular providers in June.
We are excited to announce that M-AR have been awarded as the sole turnkey provider for Lot 2 within this housing programme.
Lot 2 is for the manufacture of volumetric, Turnkey modular houses, flats/apartments and bungalows whilst also providing full site services for all projects in this lot.
Amanda Grimbleby said
"This is an exciting contract award for us, and are looking forward to working with all CHIC members over the next 5 years and beyond to deliver better, greener and more sustainable homes for the people and families who need them most. This lot truly allows our team to demonstrate our capabilities as a truly turnkey provider supporting members' teams to deliver more, reduce their risk and provide solutions to their developments.
It is no secret that the UK housing industry has been facing significant productivity and skills challenges in recent years which look likely to be further exacerbated in the coming years. We have some of the most energy inefficient housing stock in Europe, and fuel poverty continues to create impossible financial challenges for households. We are keen to support members to overcome these challenges, and accelerate the delivery of quality-built homes, whilst driving the UK closer to zero carbon.
Scaling-up the delivery of affordable homes is vital to ensuring that everyone in the UK has a place to call home and as we face the current COVID-19 pandemic together it has never been more important for us all to do what we can to increase housing supply and help meet the government's targets.
We look forward to working with the CHIC members to deliver affordable homes our country desperately needs, but more importantly deserves"
Further information about our turnkey housing lot can be found here
M-AR Off-Site is modular building specialist who will guide you from handshake to handover.
Related Posts

Changing perceptions
Procurement
Resource
Residential
WEBINAR - The challenges and benefits of utilising Modern Methods of Construction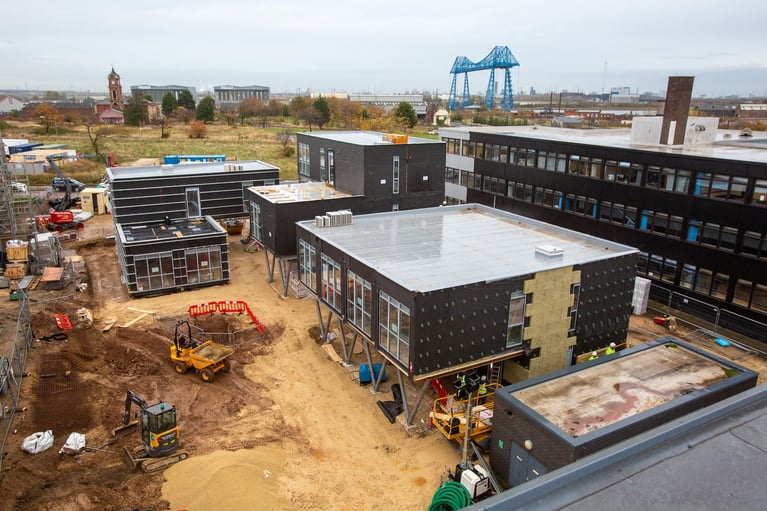 M-AR Company News
Commercial
Progress picks up pace for BoHo 8 modular offices, Middlesbrough
Procurement
Resource
Modular building frameworks